HURRICANE TOWER IS OPEN!
It's been years in the making, but now the wait is over. And the process of restoring and rehabilitating the historic Hurricane Mountain Fire Tower has begun and the tower is open!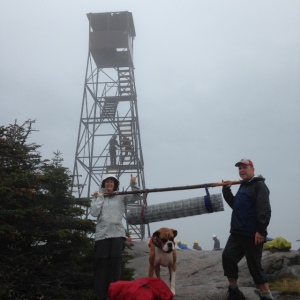 New York State formally approved a plan to restore the tower for public access in the Fall of 2014. This essentially affirmed the grass roots campaign, led by Gretna and Melvin "Stub" Longware of Elizabethtown, to oppose the state's original decision to remove the tower. Thousands of local people joined the campaign, and local and county officials also chimed in with letters of support for the tower.
Now the tower is listed on the National Register of Historic sites, and it sits on a quarter acre historic district carved out of the Hurricane Mountain Wilderness.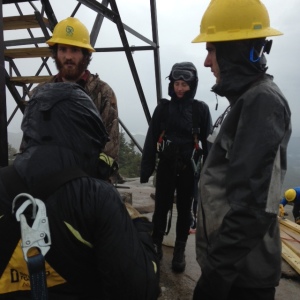 The state Environmental Conservation Department is overseeing the restoration project, with help from the Friends of Hurricane Mountain.
Late in September 2015, a Student Conservation Association crew, aided by Friends volunteers, spent a week on top replacing all the wooden stairs and landings, installing protective fencing and adding support braces. By the first weekend in October, hikers were back in the observer's cabin on top of the tower!
PLENTY OF WORK STILL REMAINS
There is still lots of work ahead. DEC plans to install a new roof next Spring, as well as the emergency services radio repeater called for in the State's restoration plan. This will fill a critical gap in emergency communications in the Eastern High Peaks. Replacing the windows and cleaning up the site itself are also on the to-do list.
INTERPRETIVE SIGNS AND EXHIBITS
Responsibility for interpretive signs — in the tower cabin and at the trail heads — falls to the all-volunteer Friends of Hurricane Mountain. The Friends will be working on designing those signs over the winter, including a replica of the fire finder's map that observers used to locate forest fires for decades.
MORE FUNDS NEEDED
While the state is shouldering most restoration costs, the Friends of Hurricane Mountain are responsible for the interpretive materials, which means raising additional funds. The Longware family-led effort raised more than $5,000. But more funds will now be needed to complete the projects.
The Hurricane Chapter of the Adirondack Mountain Club has already contributed generously to the effort. The group donated $1,000 from its Grinker endowment fund, and another $150 from the Chapter's budget. Many individuals are also contributing. Thank you!
FRIENDS OF HURRICANE MOUNTAIN operates under the 501(c)(3) auspices of Adirondack Architectural Heritage (AARCH), the not-for-profit historic preservation organization for the Adirondack Park. Contributions are tax deductible. FRIENDS OF HURRICANE MOUNTAIN has entered into a formal Stewardship agreement with the State Department of Environmental Conservation, to assist with restoration, maintain trails and create interpretive materials.
Please mail contributions to: PO Box 324, Keene, NY. 12942
Contact us: www.HurricaneFireTower.org OR friendsofhurricane@gmail.com.